Life
9 Reasons Why Barri Eid Is Just As Great As Choti Eid!
Published: Sep 12, 2016
Eidul Azha doesn't get as much attention and excitement as Eidul Fitr does. It's not fair to the bakras we sacrifice on Bakra Eid, guys! This Eid teaches us about sacrifice and brotherhood. It's just as awesome!
Here are some reasons why we should love Bakra Eid equally:
1. Eid Holidays
Who doesn't love a nice long holiday? It's three days of relaxing and sleeping! YAY!
2. Going to the mandi
It's not everyone's cup of tea, but who doesn't like looking at all the cute bakras?
3. Having a new pet for a week
If you're not allowed to have pets, at least you get to have a bakra! Even if it is for a week… it still counts!
4. It's an excuse for the entire family to come together from all over again!
4. The FOOOOD!
Barbecue every night of Eid, yo! It's like meat heaven… sigh.
5. Chand raat… but not really
It isn't chand raat per se, but we're gonna celebrate anyway!
6. Fun competitions
Thanks to social media and obviously Eid!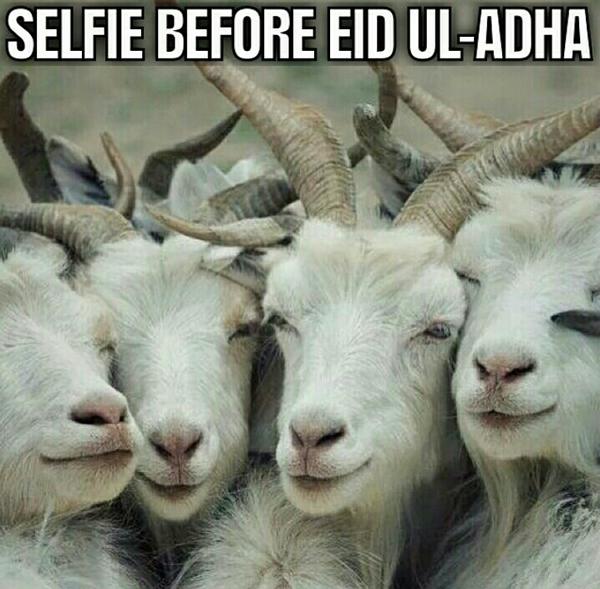 7. Racing competitions
If you were a young kid growing up in Pakistan you know how much fun it is to run with other kids and their animals competing for… well… fun!
8. Relatives coming back from Hajj
If you're lucky to have relatives coming back from Hajj or if you yourself have just come back from Hajj, you know that you're one of the few to get extra special treatment from everyone else around you and from God too! Wohoo!
9. The dawaats but more importantly THE FOOD AT THE DAWATS!
YAY!!! FOOOD!!!

Now go enjoy your Eid and don't compare this Eid to chhotti Eid – they are both equally amazing!
Eid Mubarak from Team WebChutneyPK.
RELATED STORIES
Comments