Life
18 Things Girls Who Hate Makeup Will Understand!
Published: Sep 30, 2015
If you think ALL girls love makeup, you are wrong. There are some girls, and women, who hate makeup. They hate being dolled up with all that artificial chemical-infused substance and there is nothing wrong with that because natural beauty is true beauty.
If you are a girl/ woman who hates makeup, here's what you can relate to:
1. You don't understand how some girls can put on so much makeup for work. All you do is wash your face and brush your hair.
2. You can't imagine spending an hour (or more) on your face!
3. You don't know what most makeup products do. How is a concealer different from a foundation?
4. People assume you are less feminine because you don't like makeup,
5. You don't understand the idea of touch-ups! Why would someone need a touch-up every hour?
6. Make up tutorials make absolutely no sense to you
Make up toutorial:
You:
7. You wear a little kajal and you suddenly feel like you're going to a wedding!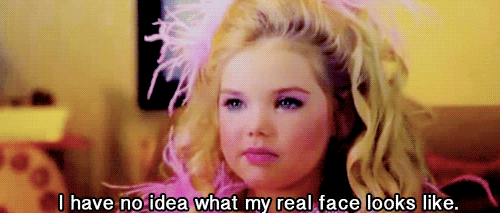 8. You save so much money because you don't spend money on expensive makeup products.
9. Sometimes you try to put on some makeup but you end up erasing everything before going out
10. But when you do wear makeup, every-FRIGGING-person notices.
11. What the hell is contouring? Sounds like a medieval torturing practice.
12. When you try to put some lipstick or lip gloss on,
Before eating most of it or doing this without realising it,
13. You don't understand why anyone would want to put on fake eyelashes
14. Your mom forces you to wear makeup on other people's wedding and this is what you end up looking like,
15. You have no idea what you will do on your wedding day because brides HAVE TO wear makeup!
16. You have never understood why girls wear makeup to the gym, especially when they will sweat it off!
17. Applying liquid liner or making a perfect winged eye is a nightmare for you
18. And when you do put in the effort to wear makeup, you forget you are wearing it, end up rubbing your eyes and don't notice until someone else points it out.
You don't NEED makeup! Not even on your wedding day because nothing can beat natural beauty!
RELATED STORIES
Comments